For Wendy Irwin, the Founder and CEO of Yellow Tractor, this is personal.  Growing up in the shadow of Texas oil refineries in an area that some have called "the cancer belt", Wendy began to understand the connection between the environment and human health at an early age. As a professional, parent and community activist now living in the leafy northern suburbs of Chicago, she knew she wanted to do something to make a positive impact on human and environmental health.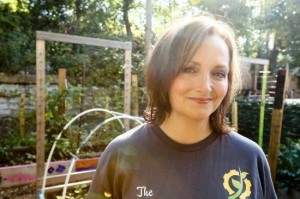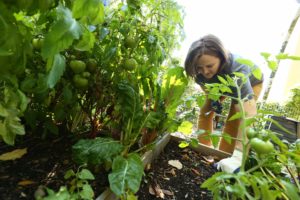 The idea came like a bolt of lightning one day just over five years ago.  The key to better health begins with the most basic connection to the food we eat, and that connection starts by growing it for ourselves. In that moment of clarity, Yellow Tractor was born.
Yellow Tractor, LLC provides on-site employee gardens and gardening education for corporations that are committed to improving individual health and well-being. In partnership with its clients, Yellow Tractor creates and facilitates custom-designed fruit and vegetable gardens and provides all the resources required for success. Recent clients include large and mid-sized corporations with employee wellness initiatives, schools and universities, and not-for-profit organizations committed to health, food security and environmental responsibility.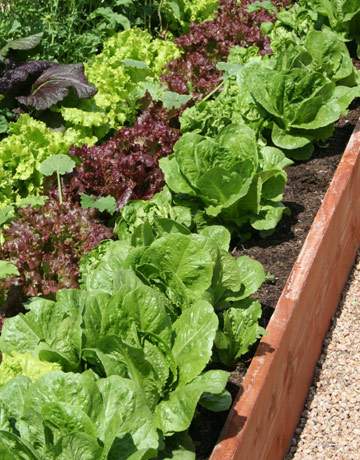 Yellow Tractor's own custom-designed, raised cedar garden beds are the building blocks for each garden.  The beds are built of untreated, natural red cedar, are easy to assemble with no tools required, and may be used in any location with at least 8 hours of direct sunlight each day.
After identifying the client's goals and studying the garden site, installation begins. Each garden includes the beds, seeds, plants, soil and access to a full range of educational resources.  Master gardeners create a soil mixture and planting plan to meet each client's needs and deliver the best harvest.  And the harvest can be significant.  Each 4' by 8' garden bed can deliver up to 100 pounds of fruits and vegetables in a single season. Working in the garden provides opportunities for employees to connect on a personal level, builds community, and provides exercise, healthy food, and ultimately better overall well-being.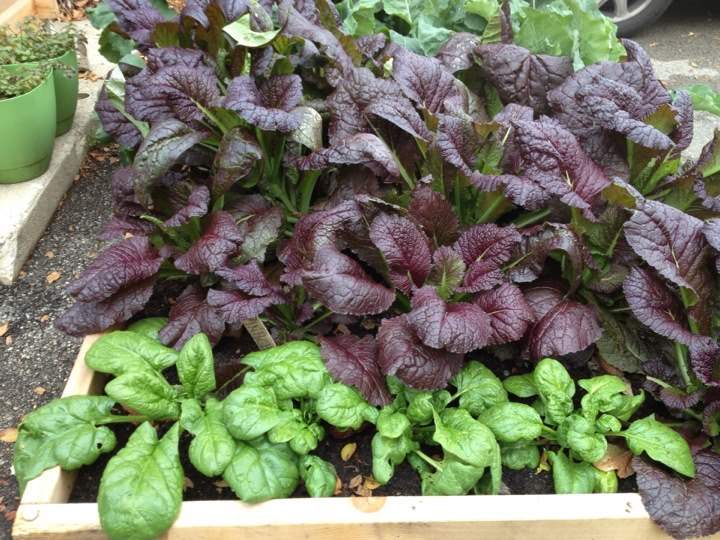 By reaching people where they spend most of their life, in the workplace, Yellow Tractor helps organizations internally by lowering healthcare costs and improving productivity and externally through employee engagement projects in the community. As Wendy has said, "Corporate gardens are the new gym: they relieve stress, provide team building, burn calories and deliver fresh, healthy food for employees."
But the mission doesn't end there.  Wendy and her Yellow Tractor organization are committed to bringing the benefits of this approach to schools and underserved communities through a not for profit arm, The Yellow Tractor Project.  Wendy explains, "A portion of the proceeds generated by Yellow Tractor flow to The Yellow Tractor Project which brings underserved communities and civic organizations the same caliber of health and wellness programming that Yellow Tractor delivers to workplaces. This allows us to reach people who most need the education and tools to grow their own fresh, healthy food."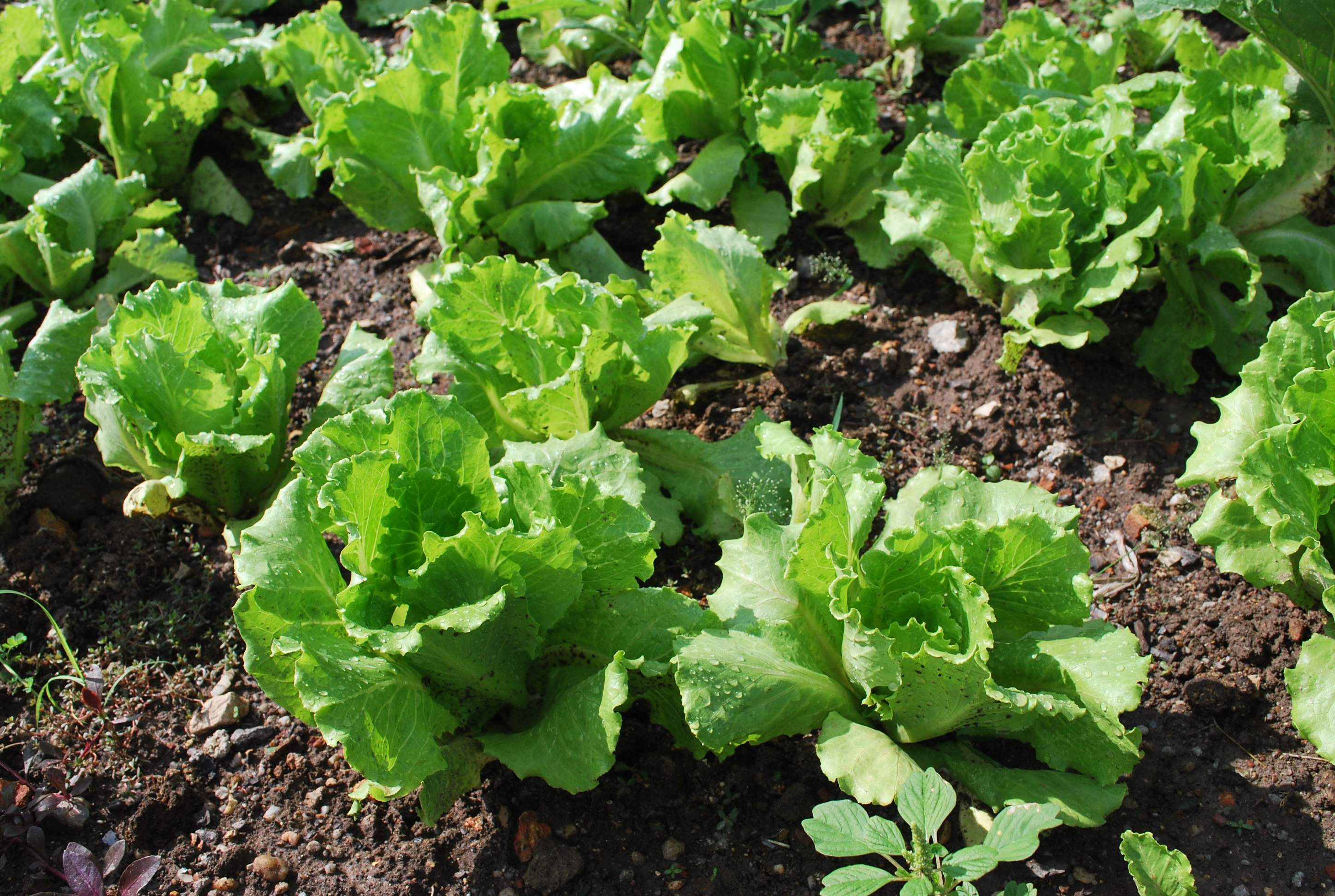 To connect corporate clients to not for profit beneficiaries, Yellow Tractor organizes employee volunteer projects bringing together the communities served. Yellow Tractor Dig Days are 1-day projects in which corporate employees work hand-in-hand with participants at local civic organizations, schools and community gathering places to create a garden.
One example of this partnership involved a sponsoring organization, Blue Cross Blue Shield of Illinois, and the incoming class of students at Northwestern's Kellogg School of Management. The Kellogg students along with Yellow Tractor staff and master gardeners built fruit and vegetable gardens at thirteen civic organizations across Chicago and Evanston all in one day. "It's truly amazing what we can accomplish for our communities when we have strong partnerships like these." And it's all just beginning to bloom.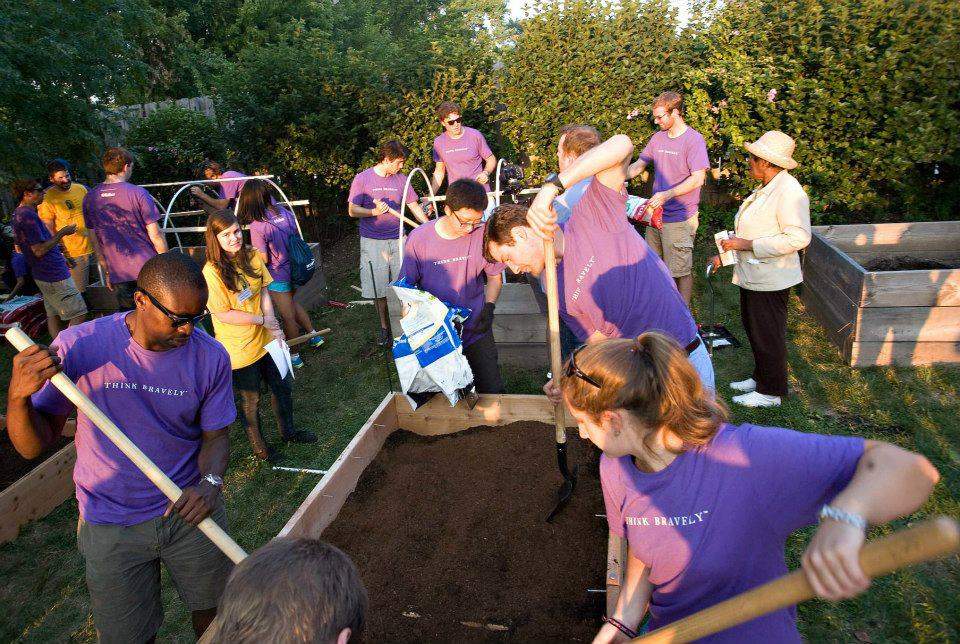 Inspired to create your own garden?  I asked the staff at Yellow Tractor to offer some simple steps to get you started.
Steps to Starting A Raised Bed Vegetable Garden
Pick a level and sunny location. Make sure your location has a flat surface to lay the bed and approximately 6-8 hours of sun for optimal vegetable growth.
Get building materials. Measure the area where you will install the raised bed, this should be determined by how much space you have and the type of plants you want to grow. You'll need; wood for the bed, cut to size, screws long enough to fit your bed height, drill and landscaping fabric to lay as the base under your bed for drainage and weed control.
Build your bed. Lay out your landscaping fabric over the area you have chosen. This fabric easily allows you to avoid weeds in your bed without the task of digging the grass up. Now construct your raised bed atop the fabric.
Fill the bed with compost and fertilizer. Make sure to get a healthy mix of compost and fertilizer for your bed. The amount you'll need is dependent upon your beds dimensions.
Plan your garden. Select vegetables and herbs that you will get the most yields based on the size of your raised bed. Once you have purchased your plant materials, be sure to look at the spacing requirements when installing them in your bed.
Enjoy your garden. Tend to your garden with watering, pruning and harvesting as needed to keep your plants healthy and your yields high.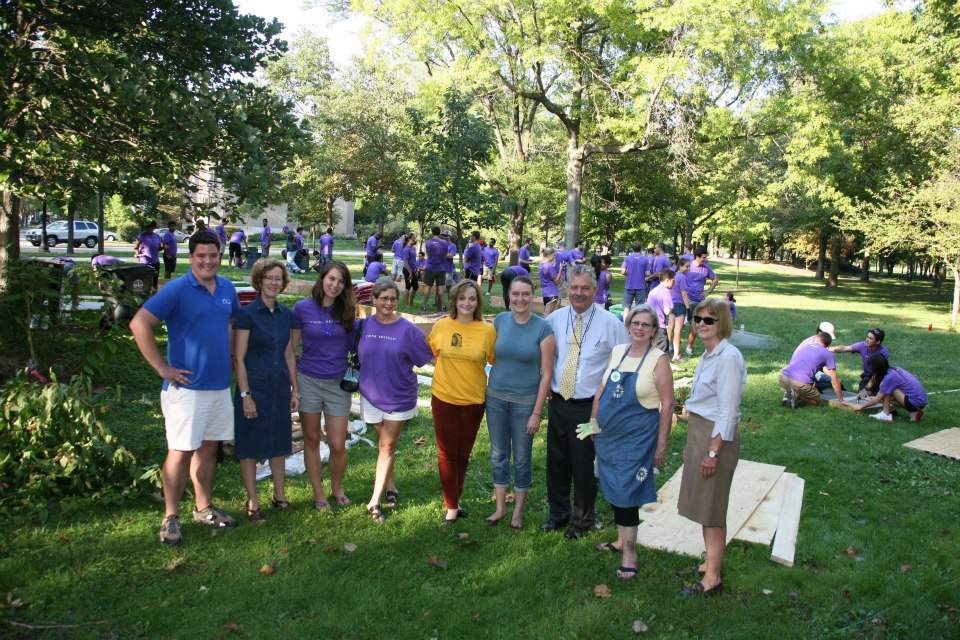 For consultation, supplies and materials, visit YellowTractor.co.
This article appeared in the Spring 2016 issue of Lakeshore Magazine. Subscribe HERE.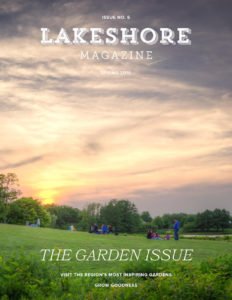 Click the cover image above to view the full issue.